Best Sissy Porn Games in 2022
Table of Contents
Whether you're looking to kill some time on a lazy summer afternoon by playing some sissy games or whether you're a veteran when it comes to these and several other type of games like trans VR porn, you've come to the right place! Our article will provide you with the best sissy porn games you can find in 2022 and give you enough material to jerk off as if tomorrow will never come. We are exclusive partners with all leading trans porn deals – get use of our discounts! So, without further ado, let's jump straight into the action and find out what the best sissy porn games are nowadays!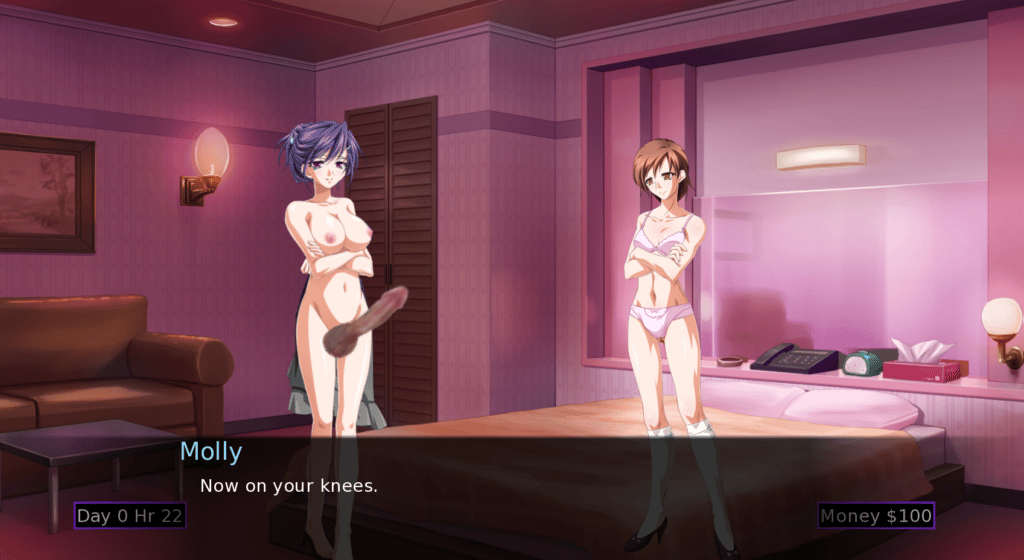 What Are the Best Sissy Porn Games?
Nowadays, the internet is full of sissy porn games of all kinds. Some of the best ones out there include:
eWardrobe
The Company
Secretary
Cursed
Book of Lust
Press Switch
Sissy Girlfriend Experiment
Trap Quest
Choker Change
eWardrobe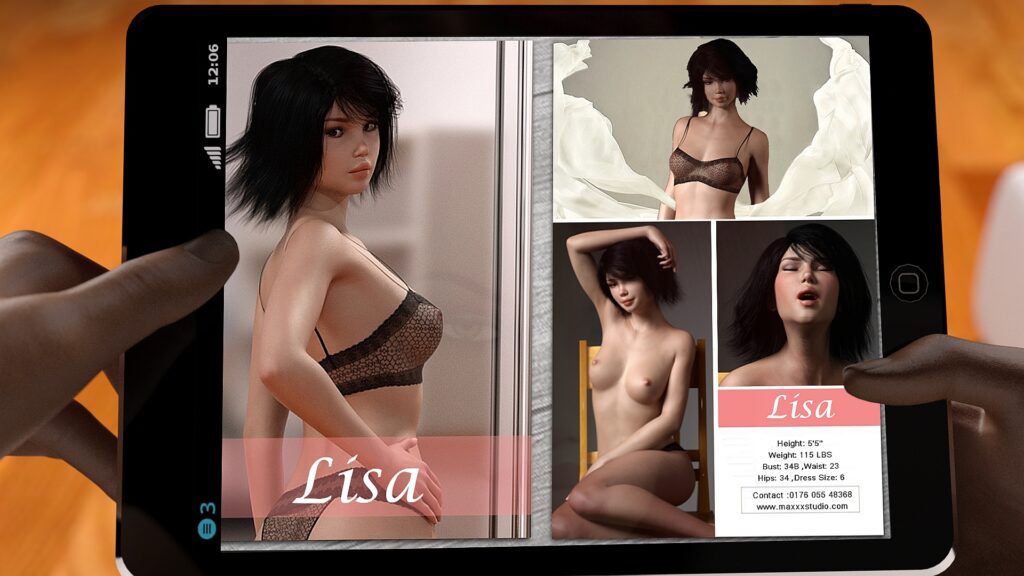 eWardrobe is one of those sissy games that will rock your world with its amazing story and plot. Basically, you act in the role of Danny Jones, a jobless young man who's spending the summer at his aunt's cottage. But there's a catch: you forgot to bring any clothing with you, and your aunt's eWardrobe thinks you're Sasha, the freaky cousin. As the story unfolds, you'll have to bring numerous cosmetic and plot-changing choices, which will influence the outcome of the story. The game is currently in the alpha stage, it's free to download, and overall a sure way to have some fun.
The Company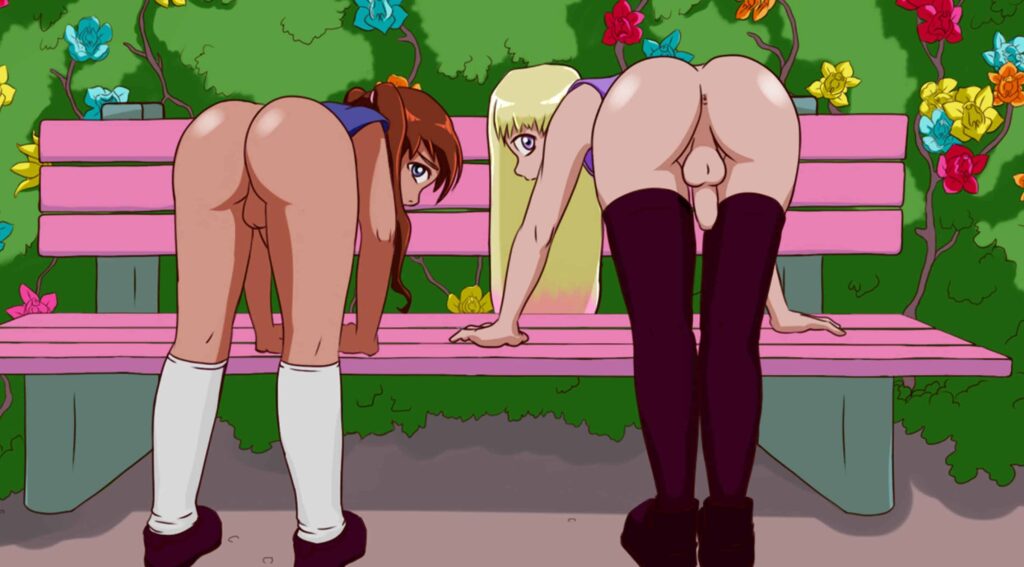 If you're interested in playing an open-ended erotic adventure game, The Company is exactly the one to float your boat! The game is text-heavy, which means that you're going to spend a lot of time reading a bunch of text, but it's 100% worth it because you'll be able to interact with various characters, make numerous decisions, and shape the story according to your wishes and desires. The Company is free to play and is a lot of fun, especially once you get into it and the story itself!
Secretary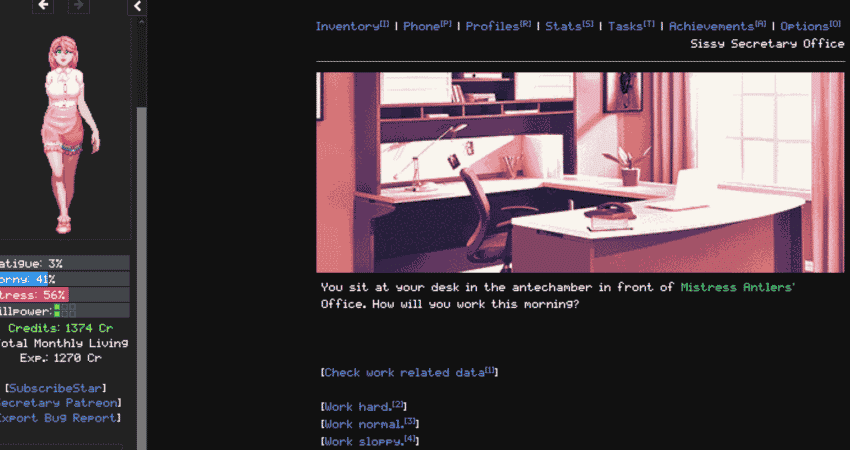 Are you into feminization, S&M, submission, chastity play, humiliation, bondage, and all the other related fetishes? If so, Secretary is the game you're looking for! It's an erotic adventure/life simulation game in which you play play as a normal guy who transitions from a boring IT job to a role of a personal secretary to an important executive. The game will progress depending on the choices you make, how you develop your character, interact with others, etc. I'll just tell you that there's more going on at this company than it might appear at first sight, so go ahead and check it out, because you're in for a surprise and a treat!
Cursed
If you like transformation/simulation games, Cursed will make your time fly by fast! At the beginning of the game, you're transformed by a woman as punishment, and have to interact with various characters, form numerous relationships, etc. You will be interacting with Vivian, Genevieve, and other impeccably written characters who will dive under your skin before you notice it! There's a lot of room for replayability and overall the game is a killer!
Book of Lust

Book of Lust is for all of you who are into mind control, furry, possession, incest, infidelity, impregnation, etc. It can be described as a NSFW time-management/rpg novel in which you take the role of Jake Hart, an average young man. You are given a mysterious spellbook and accidentally release a succubus. The beauty of the game lies in the fact that it's completely up to you how you act with the succubus, which means that you can control her mind, impregnate her, order her to possess people around you, or anything else that pops into your mind.
Press Switch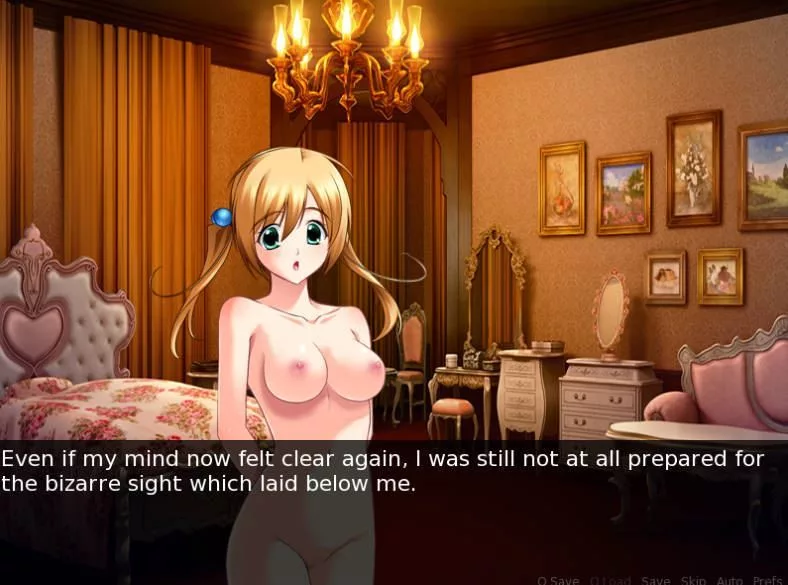 Press Switch is a visual novel type game in which you play as Calvin Hintre, a teenager who loves nothing more than observing others. He likes it so much that he prefers it to engaging with them! One day, a passing truck nearly kills you and leaves a device behind it that lets you change others around you. Then, you are presented with numerous possibilities of controlling the device and satisfying your curiosity!
Sissy Girlfriend Experiment
Forced transformation, M2F, femdom, cuckold, BDSM, sissy, anal sex, group sex–these are all the fetishes covered in Sissy Girlfriend Experiment. You play as a guy who lives with his loving sister, but during one night, you meet an older lady who turns your world upside down. Slowly over time, you find out her true self, but will you find it in time? Play on your own terms, bring decisions you think will bring you to a desired outcome, and most importantly, have a blast!
Trap Quest
Fancy an erotic, text-heavy, roguelike game in which your body is transformed based on the choices you make and events you go through? If so, Trap Quest is what you're looking for! The biggest transformation is the bimbofication. You can play as a girl or a guy, gay or straight, and whatever else you can imagine. The mechanics in the game are super fun and are a result of eight-year long cooperation of developers with the community.
Choker Change
Do you want to play as a character whose boring life is spiced with weekend visits to a prostitute that's become more than a friend to you? As time goes by, you'll be used by your friend and be a submissive little bitch. The odds of resistance will be against you, but you can at least have an impact on how big you want the changes to be. Overall, there are a lot of fun mechanics and plots in the game, which ensures a good time.
Closing Word
Overall, you can't go wrong with any of these games. They're all bound to help you have some fun and you'll enjoy going through them more than anything. So go ahead and click on some of the links we've added for you in the article, and have a good time!