Finding the right lingerie when you're trans
There is nothing that can make you feel sexy like a pair of lacy underwear. A piece of small, often see-through fabric hiding the juiciest parts of your sexy body is perfect for turning on your partner. However, finding the right lingerie when you're trans is more of a challenge than it might seem.
Despite the market's variety, lingerie designers rarely consider transgender people's needs. It goes without saying that the body of a cis person does not have the same size and shape as the body of a trans person. And most lingerie, and underwear in general, are designed for cis people. Plus, brands that make underwear for trans people often do it without style. All that considered, it is hard to find a piece that is both comfortable and sexy.
Limited options for trans people
Why does the typical lingerie feel so uncomfortable and even painful? Well, all bodies are different, but there are even more significant differences between a cis and a trans person's body.
For example, T-girls usually have wider ribcages than cis girls, so ordinary bras are often too tight for them. Especially if they have a flat chest and can't opt for a bra with a longer band because it also has bigger cups which would be empty without breast forms. Tran women are often taller than an average cis girl, so it's not unusual that bodysuits don't have enough length. It is no less of a challenge to find cute panties that fit. Lacy thongs don't have enough coverage, and boxers are not arousing enough. And I'm not even gonna start about tucking and how hard it is to find the right panties for it.
Trans men don't have an easy task either. Pressing your boobs with a binder is never comfortable. Also, the right underwear that allows practical packing is usually not cheap.
How to find the right lingerie when you're trans
Just because it is hard, it doesn't mean that you should just give up wearing sexy lingerie. You can make dicks hard and pussies wet with no effort. You just need to learn how to find the right pieces.
First things first, it helps when you know your measures. Designers have in mind a few average sizes when they make lingerie, but those sizes often differ depending on brand and model. Knowing your measures helps you narrow down options, especially when you shop online, as many online stores have tables with sizes and measurements for their products.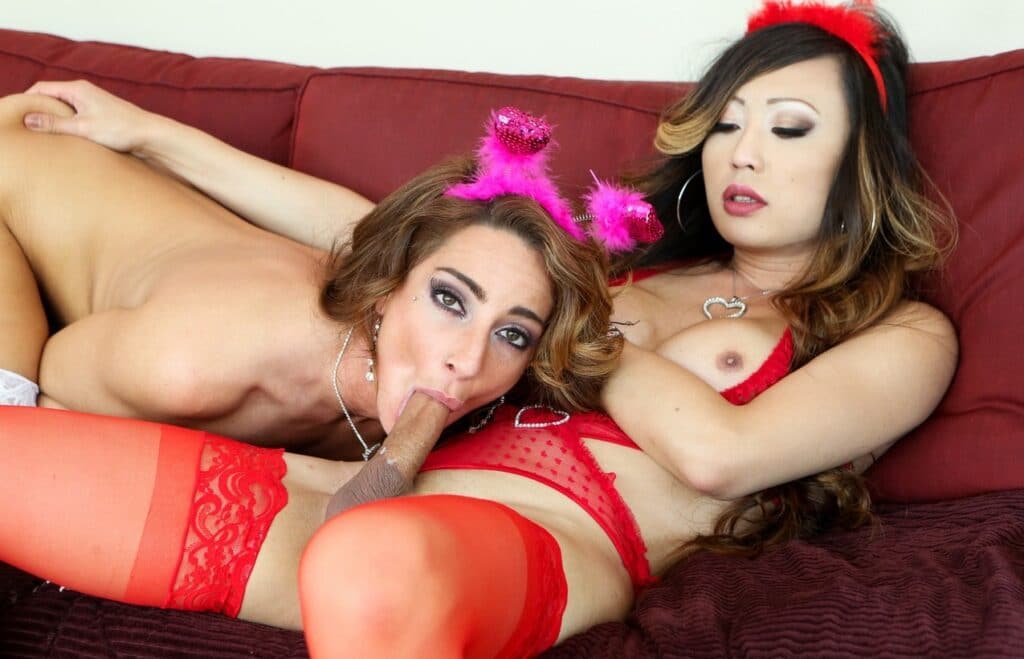 Finding a bra
A model with a wider gore (the part between cups) is a better fit for someone with a wider ribcage. Finding a bra with a longer band and smaller cups is almost impossible, but you can use bra extenders, such as the ones that Bluebella offers. Longer and fully adjustable straps are useful for taller people. You can also look for models with wider straps, as they will make your frame look smaller.
For T-girls who didn't have a top surgery or who are just starting on hormones, regular bras with cups and wires are not the best choice. Sports bras are more comfortable and, although they can look hot, they can't compare with a tiny lacy piece. That is where bralettes come as a great option. They are usually made of flexible materials and don't have cups, so they look sexy even on a flat chest.
Choosing panties
Finding comfortable lacy panties that are not super-small is challenging for anyone, not just T-girls. Still, it is even more difficult when you need extra space to fit your big cock and balls. Generally, you will want to go with high-waist models because they will give you more space in the front and will have better coverage.
If you want to avoid tucking, you can use tighter models that will keep everything in place. And if you do want to tuck, make sure you find something that doesn't cause you tremendous pain. Tuck It Uppp has thongs that are something between regular and tucking underwear, and you don't need a gaff with them.
Where to shop for lingerie when you're trans
I've already mentioned some brands that make lingerie that compliments trans women. You can also check out what Origami Customs make. They offer lingerie, underwear, and swimwear that are gender-affirming. What's more, they provide their customers with customizable pieces that they alter at no additional charge. However, these handmade pieces don't come off cheap.
CantiqLA's gender-fluid collection combines hot with comfy. They use a lot of lace and see-through materials for their handmade pieces. Their bralettes, bodysuits, boyshorts, etc., are available for any gender, shape, size, and body type.
Carmen Liu Lingerie has everything a T-girl needs to feel desirable. As a transgender woman herself, Carmen succeeds at making practical yet super hot lingerie. She makes excellent panties for tucking, with a wider crotch and special design for extra comfort. Floral lace and Italian satin make her pieces irresistible.
Turn on your partner with sexy lingerie Looking super sexy in lingerie and feeling comfortable is not impossible. Yes, finding the right lingerie when you're trans is difficult. Still, these tips and suggestions can hopefully help you find the right piece for you, so you can feel like the goddess you are.