Top 10 Trans Angels scenes
I'm sure you have seen at least some of the Trans Angels scenes. If you haven't, here is something about them – they are super hot, well-written, and with entertaining plots.
Trans Angels is a porn network that produces the best trans porn movies. They post new episodes frequently and feature more than a hundred T-girls on their platform.
This list will show you top-rated Trans Angels scenes. It would be very hard to pick the best ones myself, so I'm relying on fans' ratings. And I'm delighted by their choices.
10. Tomb Rider: A XXX Trans Parody
Pornstars Featured: Damien Stone, Chanel Santini
Video Description:
This porn parody of a popular game and movies sets two hotties on a scavenger hunt for ancient sex artifacts – a golden dildo and a butt plug. After exploring an ancient temple, escaping death traps, and completing their mission, tomb raider Chanel and her sidekick Damien decide to cool down with a hot session. Busty T-babe drops to her knees to suck off Damien, and soon he does the same for her. However, his true goal is to steal the artifacts from her. Chanel catches him and decides to punish him by making him fuck her until she cums.
Duration: 36 minutes 02 seconds
9. Seducing Her Stepson
Pornstars Featured: Dante Colle, Foxxy
Video Description:
When Dante comes back home from college for the weekend, his dad brings up the unexpected news – Dante will get a new stepmom! He is shocked by the news, but as soon as he meets Foxxy, the newest member of the family, the shock turns into excitement. Foxxy is super hot, covered in tattoos and piercings, so Dante can't help himself. His lips are soon wrapped around future stepmommy's cocks. They fuck all over the kitchen, and at the end, Dante welcomes Foxxy to the family with a nice and sticky creampie.
Duration: 33 minutes 16 seconds
8. Stepsister's BIG Secret
Pornstars Featured: Gabriel D'Alessandro, Domino Presley
Video Description:
Gabriel is staying with his dad and stepsister Domino for the summer. He doesn't feel very optimistic about it when he arrives and finds no one home. Gabriel settles in and heads for the shower, only to find his sexy stepsis in there. He takes time spying on her as she is soaping her delicious ass and erected cock. Domino eventually catches him, and to his surprise, invites him to join her in the shower. Gabriel's day turns so much better than he expected as the two stepsiblings exchange blowjobs and bang while the water is running down their smoking bodies.
Duration: 23 minutes 14 seconds
7. Balls Deep In My Balloons
Pornstars Featured: Pierce Paris, Daisy Taylor
Video Description:
When Daisy makes a big birthday party, it doesn't even cross her mind that her biggest wish will come true. She can barely keep it together when her crush Pierce shows up. Daisy takes him to her bedroom to leave his jacket. He takes the chance to sneak a peek at her diary and finds out she has a thing for him. The hunk feels excited and hides behind a giant balloon decoration to wait for Daisy. To his surprise, she comes back to the room, puts on his jacket, and starts touching her tits and cock. Pierce enjoys the show but accidentally reveals himself, startling Daisy. She feels embarrassed at first, but hunk's tender kisses relax her quickly. The birthday girl gets all she wanted when Pierce licks her ass and pounds it hard.
Duration: 31 minutes 02 seconds
6. Wonder Woman: A XXX Trans Parody
Pornstars Featured: Lance Hart, Chanel Santini
Video Description:
There is no way you haven't heard about Trans Angel's Wonder Woman. It was their first porn parody, made in 2017, and it still remains one of their most-known and best-rated scenes. Chanel and Lance play the roles of Amazon Princess Daiya and soldier Stan. The Princess finds hunky Stan stranded on her island paradise and learns that the world is in danger. Being the Wonder Woman, Daiya is set to save the world from Eros and the forces of unresolved sexual tension. Stan helps her in that mission, but they stumble on their own unresolved sexual tension. So, they must first resolve that before dealing with the villains. Luckily, Wonder Woman and Stan can simultaneously make out and fuck hard while kicking the bad guys' asses.
Duration: 37 minutes 04 seconds
5. Roommate Wanted
Pornstars Featured: Lance Hart, Korra Del Rio
Video Description:
Finding a new roommate can be challenging, but Korra makes it fun. She knows how important it is to get along well with the person you live with, so she sets a little test for two candidates. She has two hot studs to choose from – a put-together professional and a dirty little freak. You can guess which one of them is happier to play Korra's game of hide-and-fuck-me. Kinky Lance takes the opportunity to impress the T-girl with his big cock and incredible skills. He licks and thrusts Korra's ass like his life depends on it. Will that be enough for Korra to choose him as her new roommate?
Duration: 29 minutes 18 seconds
4. My Girlfriend's Slutty Sister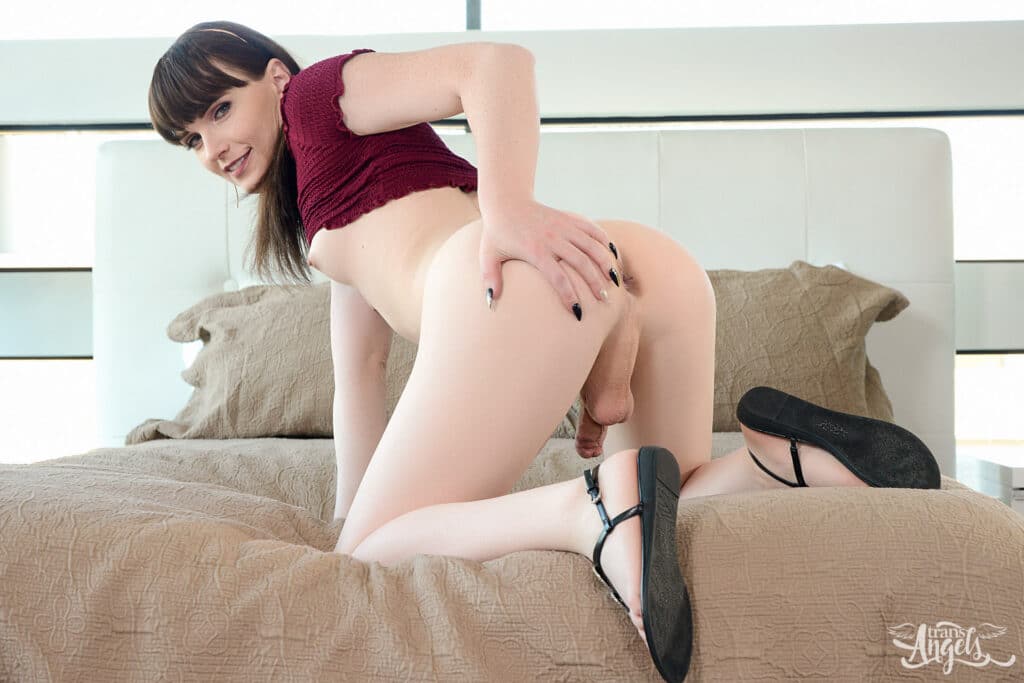 Pornstars Featured: Mike Panic, Natalie Mars
Video Description:
Meeting your partner's family can be scary or awkward, so Natalie does everything she can to properly welcome her sister's boyfriend, Mike. And for her, that means seducing him since the moment he walks through the door. Mike actually didn't feel nervous about meeting his GF's family until he saw slutty Natalie. Her way to greet him is to give him a handjob under the table and suck his cock in the other room. Mike is trying to be faithful, but he can't resist but follow what naughty teen does. When they are finally alone, Mike gives Natalie what she wants – a rough pounding with a bit of choking, just as this kinky T-girl wants.
Duration: 25 minutes 07 seconds
3. Let Me Teach You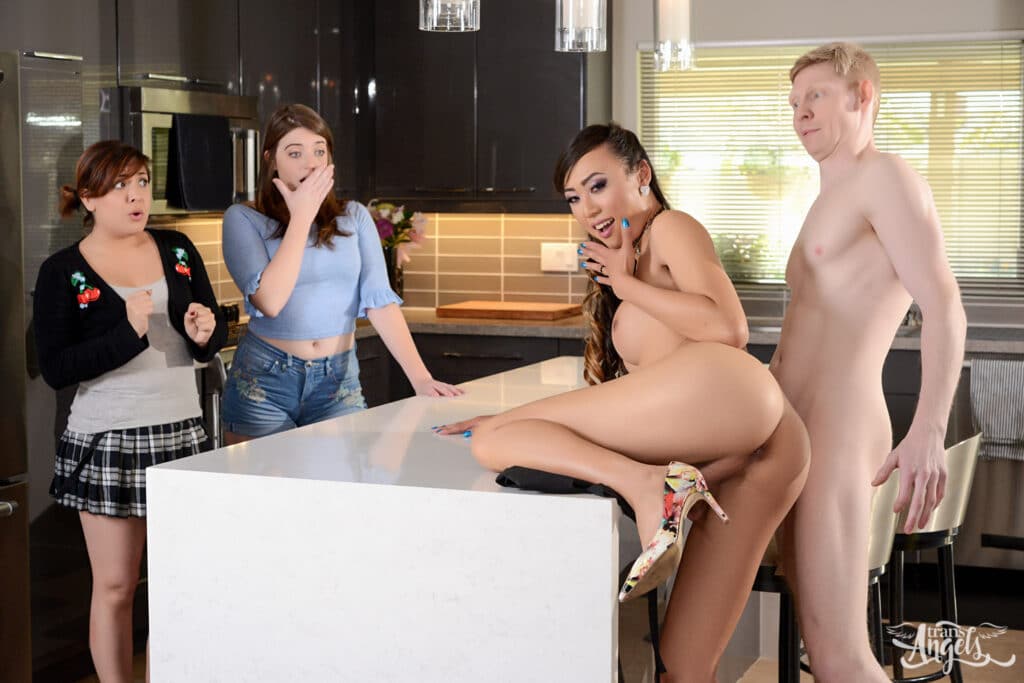 Pornstars Featured: Rob Yaeger, Venus Lux
Video Description:
It sucks when you don't have much luck getting laid. Rob doesn't have much success in his attempt to hit on his stepdaughter and her friend. Fortunately for him, experienced MILF Venus sees everything and decides to help him. She takes it upon herself to teach the poor guy how to treat a lady. Venus will show Ron everything – from how to approach a girl to how to kiss her, fuck her tits, suck her cock, and pound her ass. This T-girl is a great teacher because she doesn't just tell her student what to do; she shows him by doing all that naughty stuff to him and then giving him the chance to do the same to her.
Duration: 30 minutes 12 seconds
2. Just Ignore Him
Pornstars Featured: Wesley Woods, Natalie Mars, Korra Del Rio
Video Description:
Stepsiblings can be so annoying sometimes, but they do come in handy for a hot threesome. Two coeds, Natalie and Korra, are enjoying their quiet night in, watching a movie and chatting. Natalie's stepbrother Wesley walks in and can't resist their cute underwear and knee-high socks, but two brunettes ignore him. He tries to get their attention by fingering and licking their tight holes and sucking their dicks. At first, the T-girls just focus on TV, but soon they can't help it anymore, so they finally give Wesley what he wants – a raunchy threesome with lots of ass pounding and cock sucking.
Duration: 39 minutes 38 seconds
1. Cocked Behind Bars
Pornstars Featured: Chanel Santini, Kimberlee
Video Description:
Naughty Kimberlee is stuck behind bars, guarded by officer Santini, who has the only key. As soon as she is locked up, Kimberlee starts touching herself and flashing her huge boobs, trying to seduce the officer on duty. Chanel is intrigued and decides that her big cock is a fit punishment for Kimberlee's crimes. She bends the prisoner over and starts drilling her ass hard. Once the horny guard spills all the juice she has, Kimberlee uses the chance and cuffs up Chanel. Was that her plan to break out of jail, or she just wants to dominate? I won't spoil the end; I'll only say that the scene has unexpected turns.
Duration: 35 minutes 40 seconds
Incredible Trans Angels Scenes In HD
These are the Trans Angles scenes that their members rated as the best. How do I know that? Trans Angels care about their members and want feedback from them, so they have set up a rating system. Anyone can see the number of likes and dislikes that a movie has. Plus, their Top-rated section is great when you don't know what to watch, so you rely on what others liked.
All this browsing through Trans Angels scenes inspired me to make my own list of best movies. Stay tuned because I'll be talking about my personal favorites next time. That is if I manage to pick just a few out of so many incredible movies.